Coaches
Scroll down for Mentor Information, Coaches Membership Checklist (including links for CPR & Safety Training), Insurance, and ASCA Videos.
---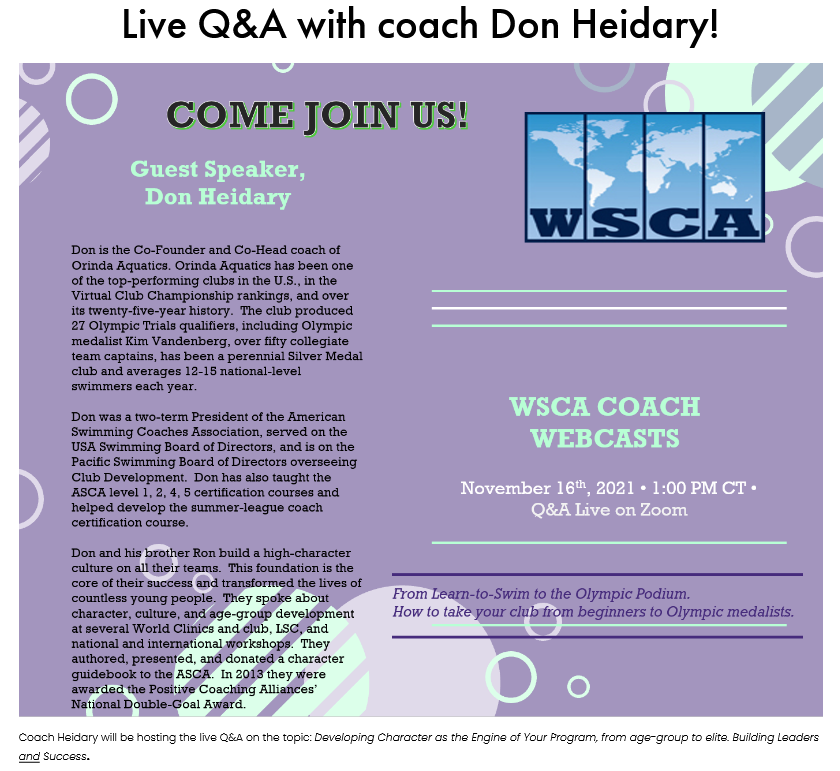 To sign up, please send an email at meriem.kebbab@wscacoach.org

---

We really enjoyed having USA Swimming High Performance Consultant, Russell Mark speak. We will continue to look for opportunities to bring these events to coaches and clubs. Below are references from his talk for coaches to use
Videos (updated 2020)
Fly above water
Fly underwater
Fly underwater slo-mo
Fly press
Breast press
Webinar Links (with video and explanations) (updated 2020)
USA Butterfly Revolution
Presentation
PDF slides
Backstroke
Presentation
PDF slides
Freestyle
Presentation
PDF slides
Breaststroke
Presentation
PDF slides
Starts & Turns
Presentation
PDF slides
Fly Breathing Patterns
(1-1-1 means breathing every stroke. 1-2-1-2-1 means 1 up 1 down)
100 Fly
200 Men's Fly
200 Women's Fly
Bob Bowman Fly Perspective
Older Presentations
Dolphin Kick - PDF slides
Fly - PDF slides
Freestyle: Arm Stroke - PDF slides
Freestyle: The Foundation - PDF slides
How To Evaluate Technique - PDF slides
---
Athlete and Coach Travel Support

Through the Senior Travel Support Program, Pacific Swimming seeks to support its member athletes at the highest levels of competition. For information on travel support eligibility, please review and fill out the documents.
Click here for the most current travel support forms.