News Detail
February 26, 2014 - Five PC Swimmers Compete as Members of CA-NV All-Star Team v Japan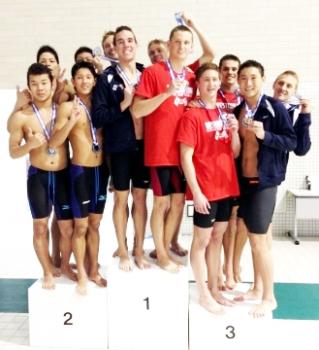 Osaka, Japan – 36 swimmers from California and Nevada traveled to Osaka, Japan on February 15th and 16th to compete in a short course meters dual meet against the Itoman Junior National All-Stars. 18 male and 18 female swimmers from five LSCs in California and Nevada (including Pacific Swimming) were selected as members of this All-Star squad based on their performances at the 2013 AT&T Winter Nationals, 2013 Speedo Winter Junior Nationals, and the 2014 Winter Sectionals. Five swimmers and one coach from Pacific were selected. These members included Chloe Isleta (PEAK), Erika Brown (PLS), Moriah Simonds (PLS), Benjamin Ho (PEAK), Trent Trump (LAC), and Coach Steve Morsilli (PLS). The American All-Stars were only allowed to swim their top three preliminary times in the finals of each event. Individual finals results for Pacific's swimmers can be found below.
Although the CA-NV All-Stars had incredible swims, they were unable to beat the Itoman All-Stars, losing the dual meet by four points.
In 2015, the second year of this all-star exchange will take place in Federal Way, WA over the President's Day weekend. Swimmers will again be selected based on their performances at the Winter National, Junior National and Sectional Championships. Information on the application process will be posted on pacswim.org as soon as it becomes available.
| | |
| --- | --- |
| Chloe Isleta (PEAK) | Benjamin Ho (PEAK) |
| 2nd - 100 BK (1:01.09) | 3rd - 100 BK (55.08) |
| 3rd - 200 BK (2:11.41) | 3rd - 200 BK (1:58.67) |
| 5th - 400 IM (4:49.89) | 3rd - 200 IM (2:02.21) |
| Erika Brown (PLS) | 4th - 400 IM (4:24.97) |
| 3rd - 50 FR (25.85) | Trent Trump (LAC) |
| 2nd - 100 FR (55.68) | 3rd - 100 FR (50.34) |
| 1st - 200 FR (1:59.26) | 1st - 200 FR (1:50.14) |
| Moriah Simonds (PLS) | |
| 6th - 100 FR (59.08) | |
| 3rd - 200 FR (2:00.16) | |
| 5th - 400 FR (4:13.94) | |
| 1st - 800 FR (8:34.23) | |
| | |